HELP & PRINT TEMPLATES
Print Templates: - Click here to download our print templates
---
If you can not, or do not know how to design your artwork as 'CMYK PRESS READY'
We may be able to correct or convert your artwork to make it acceptable for print.
There will be a charge for this service, please This email address is being protected from spambots. You need JavaScript enabled to view it. us for more details.

This email address is being protected from spambots. You need JavaScript enabled to view it. us for quotes or information about jobs printed in 'Pantone Spot Colours'.
---
 MICROSOFT PUBLISHER
IF YOU WANT US TO PRINT YOUR WORK CREATED USING MS PUBLISHER
If you bring us, or email us your publisher file, IT WILL NOT LOOK THE SAME ON OUR COMPUTER
PLEASE EXPORT YOUR PUBLISHER FILE AS A PDF OR JPG
1) Open your document in Microsoft Publisher
2) File > Save as.. > choose .PDF or .JPG from the drop down menu
3) Click on 'Change' button (or settings or options)> slect 300DPI (or commercial press)
4) Click on 'Save'
5) If your artwork has more than one page, go to the next page (folding tab at the bottom) - Repeat from step (2) > save as a different name
YOU ARTWORK MAY STILL NEED CONVERTING IF IT IS IN RGB
---
We need your artwork as a PDF 'PRESS READY ARTWORK'
CMYK - 'PRESS READY ARTWORK'
Your Document will be printed using a four colour process (CMYK - Cyan, Magenta, Yellow and Keyline Black).
It is important you design your documents in a CMYK colourspace.
When you begin setting up your document, always select CMYK, if you have been working in RGB for web design don't forget to convert your colours to CMYK before sending to the artwork to us.
Traditional printers often use Pantone Spot colours when printing work. Like paint, spot colours are mixed specially and each colour is printed one at a time.
As we will need Process Colour, all Pantone Spot colours MUST be converted to their CMYK equivalent before your file is sent to us.
FONTS - 'PRESS READY ARTWORK'
Before, or while creating your PDF file, please make sure you have 'no fonts', to do this (depending on what software you are using) you need to 'Create Paths' or 'Create Outlines' for all your fonts. If this process is not applied the printer may substitute your chosen font.
300DPI - 'PRESS READY ARTWORK'
If you are creating your artwork in software like Adobe Photoshop we require an absolute minimum of 300dpi, you can send 450dpi or even 600dpi if you prefer, the later two sizes dramatically increase the file size of your document. As a general rule 300dpi is adequate. To ensure a crisp print on items such as text we strongly recommend creating all artwork in software like Adobe Illustrator or Adobe In-Design, these applications output text as "Postscript" data which means the text information will print crystal clear. You can export PDFs from Photoshop, but please check that text layers have been preserved and fonts are embed.
SEND US YOUR PDF FILES - 'PRESS READY ARTWORK'
To get the best results we highly recommend submitting your printing in PDF format. The advantage of saving as PDF is text can be preserved as text layers, this will result in a muchhigher quality finish than flattened text which you may find in JPEG. It is important that you check your setting when exporting as PDF as some settings for creating small file sizes can result in a file which is simply a JPEG inside a PDF.
All images embedded. All fonts converted to paths or outlines created.
---
UNDERSTANDING BLEED (3mm bleed required) -  'PRESS READY ARTWORK'
It is very difficult to print all the way to the edge of a sheet of paper/card, to achieve this it is necessary to print a slightly larger area than is needed and then trim the paper/card down to the required finished size. Images, background images and fills which are intended to extend to the edge of the page must be extended beyond the trim line to give a bleed. Most of our required artwork needs a 3mm bleed.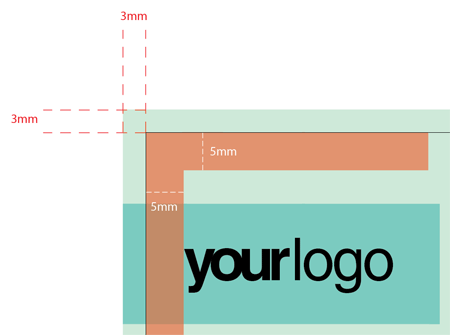 AND PLEASE KEEP YOUR INFORMATION, TEXT AND LOGOS 5MM AWAY FROM THE 3MM BLEED (8mm away from the edge of your artwork)
---
ABOUT RGB & CMYK
(We need your artwork in CMYK)
If you send us your artwork in RGB colour, Spot colour or mixed format artwork - we may charge for converting it to be suitable to use for print.
If you are unsure, contact us, or let us do the artwork for you!
Why does my artwork have to be CMYK?     
The RGB colour spectrum is much larger than CMYK, and if you supply artwork as RGB, what you get when it's printed may differ markedly from what you supplied. Most colours will be much the same, but bright colours will appear duller, particularly greens, blues and pinks. Before you save your file, make sure you have converted it to CMYK so you will have a truer idea of what it will look like when printed.
If you send us your artwork in RGB colour, Spot colour or mixed format artwork - we may charge for converting it to be suitable to use for print.
If you are unsure, contact us, or let us do the artwork for you!
---